A Severn Bronies Meet
The Obligatory Christmas Themed Meet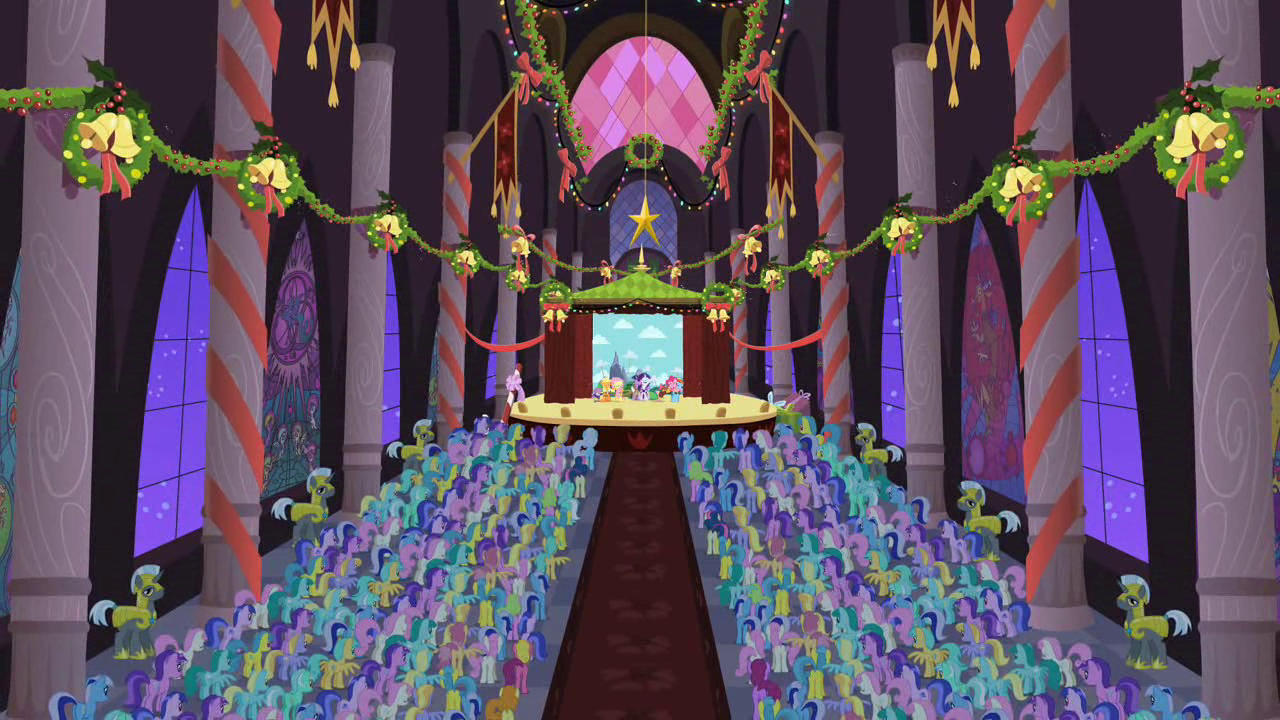 "It's Christmas time, there's no need to be afraid. At Christmas time, we let in light and we banish shade"* Oh, and we have brony meets of course. There's no getting away from the things.
We plan to huddle away into warm venues for most of the day to try and escape the biting winter cold, and use that time instead for ponyfabulous music, episodes, competitions and… stuff like that. You get the drill.
Full plan ahead
1100-1200 Starbucks
As always we start our Christmas story in the local chain coffee shop, where Grey will be haplessly trying to remember your names for meet register, while the others grab a coffee and wait for the people who quite sensibly didn't arrive two hours early.
1200-1330 The Knight's Templar
It may not be a turkey dinner, but this Wetherspoons gastopub serves some excellent onion rings, along with other tasty pub fayre. Use these ninety minutes to obtain non-caffeinated beverages and enough food to sate you for the next few hours.
Other than that – sit, be social, and be excellent to one another.
1330-1630 The Venue – Hydra Books
Pony music, pony episodes and somewhat-pony-themed competitions with ponyriffic prizes. Did I say pony yet? Sure, yeah, pony.
Episode Viewing – A group viewing of the day's new My Little Pony episode, Sleepless in Ponyville.
The Great Brony Bake-Off – Bring in your culinary creations to be judged by our panel of hungry, hungry horses. (You have to make them before coming to the meet, we're not providing cooking space!)
The Pony Quiz of the Year 2012 – Get into teams and answer questions over six categories of ponylarity. Get them right. Win things.
My Little Pony: Roleplaying is Magic – Lyraboy will be leading a small group through a short playthrough of fanmade tabletop roleplaying game, My Little Pony: Roleplaying is Magic. Bring your OCs and D20s!
Make Us a Mascot – What kind of self-respecting pony-oriented organisation doesn't have a mascot? Well, us for one. But you can change that! Draw, write, or generally formulate in some physical manner the perfect Bristol Bronies pony and you could win!
1630-1730 In the City (The City of Bristol)
With Cabot Circus, Broadmead, the Galleries, the German market, and a liberal splattering of independent stores of all kinds in Bristol's city centre, this is the perfect time to cram in the last vestiges of your Christmas shopping before the rush towards the end of the month!
Or you can just go and Gangnam Style in the middle of the Apple Store… again.
1730-1900 Forbidden Planet
It's a long, half an hour trek up to Forbidden Planet, however as our geeky goods store of choice who have been more than accommodating throughout this year, it wouldn't be a Bristol meet without dropping in for a while.
If you haven't picked up your pre-order of My Little Pony: Friendship is Magic #1, now is the time! Also a great place to go for the still elusive wave five blind bags, brushable accessories, or just friendly banter on all things geeky and nerdy.
1900-onwards Subway
This is where we start to wind the meet down. We've been out in the town for eight hours by now, let's grab a big-ass sandwich and just chillax for a while. People usually start to head back to Temple Meads around this time, so if you have a train to catch you'll never walk alone.
* The Heart Carol is a much more appropriate brony Christmas song, don't you think?
Location
Starbucks Temple Quay

1 The Square
Bristol
BS1 6DG